Superior Vandalism Cleanup Services in Colorado
Expert Cleanup For the Aftermath of Vandals
Vandalism is a frustrating and disheartening issue that many property owners face. Often unexpected and unwarranted, acts of vandalism can significantly impact the appearance and value of your property. Property Craft understands the emotional and financial toll vandalism takes on property owners, and we are dedicated to providing fast, efficient, and professional clean-up services.
Our team of restoration experts is equipped with the necessary skills and tools to restore your property to its former state, repairing the damage and making it look new again. With a keen eye for detail and a commitment to customer satisfaction, Property Craft ensures that the vandalism clean-up process is as smooth as possible for you.
Act Now and Protect Your Property!
Don't let vandalism rob you of peace and tranquility. Choose Property Craft to help you reclaim your business and maintain its value. Our prompt response and commitment to excellence ensure the best solutions for vandalism cleanup. Partner with us and see why we're the go-to choice for property owners in Colorado.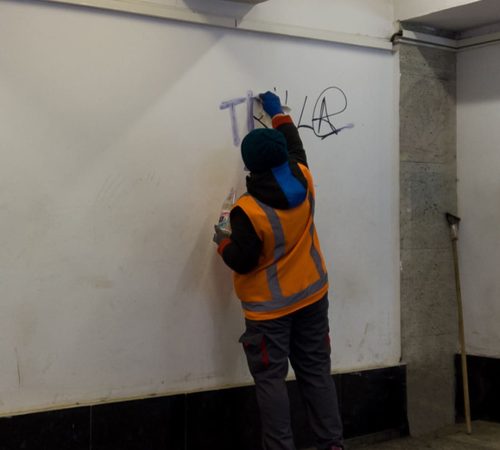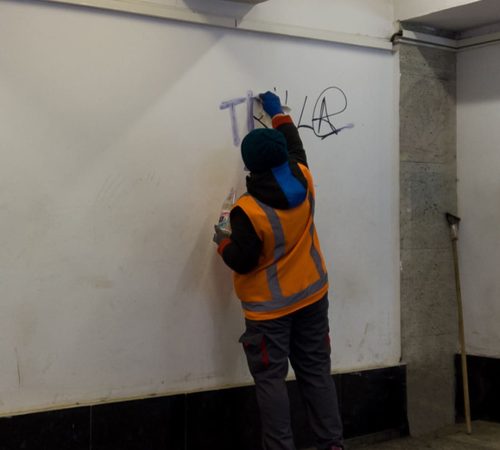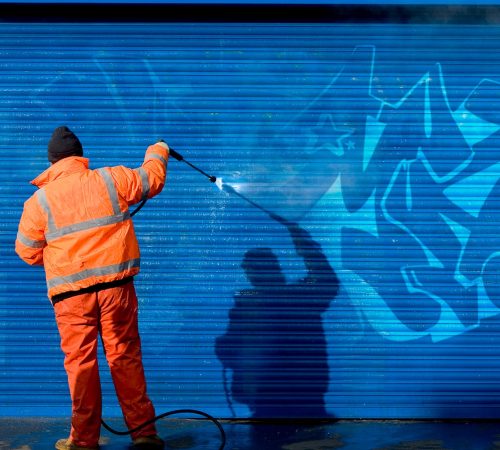 A Comprehensive Approach to Vandalism Repair
We understand that vandalism can come in many forms, from graffiti and broken windows to trash dumping and toilet paper. Our extensive range of restoration services ensures we can handle vandalism damage, no matter how big or small the problem may seem. We are well-versed in addressing various types of material damages, such as glass, wood, and metal surfaces, and our skilled technicians will leave no trace of wreckage behind.
With Property Craft's expertise by your side, you can rest assured that your property will soon be free of any signs of vandalism. Our professional and courteous team will work diligently to ensure your property retains its original luster and value.
Restoring Order and Beauty to

Your Property
Vandalism Cleanup

FAQs
Broken windows are a typical result of vandalism and can seriously compromise your property's safety and appearance. The best solution for broken windows is to contact a professional restoration company, such as Property Craft. We specialize in addressing all types of vandalism-related damage, including broken windows. Our restoration team will quickly respond to your call, assess the situation, and provide the most effective solution to board up your damaged property until we can begin restoration.
Vandalism can take many forms and result in varying levels of damage to your property. At Property Craft, we are well-equipped to handle various property defacing issues, including graffiti, broken windows, fire or water damage caused by vandals, and more. No matter the damage inflicted upon your property, our experienced team and state-of-the-art equipment ensure we can provide the most effective cleanup and restoration services suited for your situation.
Graffiti can significantly detract from your property's visual appeal and may even harm certain surfaces. Property Craft offers professional graffiti removal services that are both efficient and safe. Our team combines years of experience and industry best practices with environmentally friendly cleaning products and advanced techniques to remove all traces of graffiti from your property. We work diligently to handle graffiti removal without causing additional damage to the affected surfaces.
Your Key to Impeccable Restoration Services
We had some damage to our house due to a vehicular incident. Property Craft handled everything regarding our repairs and insurance claim. Scott and Josh did an amazing job of keeping us up to date on when contractors would be working on the house and provided us with regular updates on progress and estimates completion. By the time they had finished you would never know there was a incident and all of the crews that worked on the house were professional and pleasant.
Property Craft is an outstanding company and great to work with. We have completed numerous projects with them and they are always great to work with. Their attention to detail and consideration of customer's homes is first class. I recommend contacting Property Craft for all your construction & restoration needs.
Property Craft helped me and partners with some mold remediation/mitigation in one of our rental units. They were professional and thorough with the job they completed for us. I highly recommend them when you need a company that makes sure the job is done and done right.
Choose Property Craft for Your Vandalism Cleanup Needs
Your property deserves the best care and attention in the aftermath of vandalism. Trust Property Craft to provide the comprehensive, expert, and compassionate service you require during this time. Call us today and let our team of professionals return your property to its original, untarnished state.