The Gold Standard for Mold Inspection in Colorado
Comprehensive Solution for Mold Detection and Remediation
Mold infestations are more than just a tiny annoyance; they're a potential threat to the structural integrity of your property and can cause serious health problems. Mold often lurks in damp and concealed areas, silently causing damage to your property and threatening your health.
This is where Property Craft steps in. We are Colorado's premier mold inspection service, delivering accurate, fast, and detailed mold inspections. Our mold inspection team thoroughly examines your property—scanning for signs of mold growth and outlining a comprehensive mold remediation plan.
Schedule a Mold Inspection Today!
Hidden mold can cause unexpected damage, decrease property value, and pose health risks. Reach out to Property Craft for an all-inclusive mold inspection and secure your property's health and structural integrity while shielding your loved ones from health problems.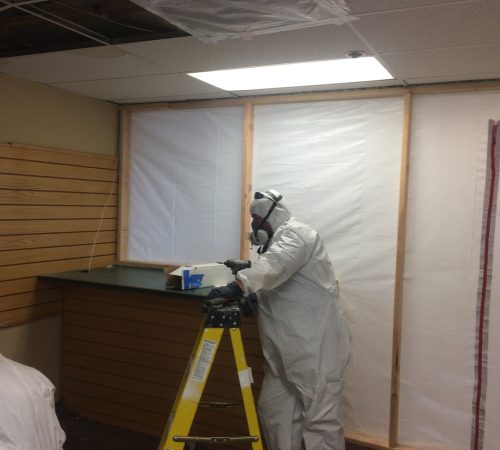 Signs Your Property Has a Mold Infestation
Mold is not always visible, so knowing the signs your property may have an infestation is essential. Unexplained dampness, musty odors, or visible growth on walls, ceilings, and floors are all indicators that you may have a mold problem. Furthermore, persistent respiratory issues, allergies, or headaches among occupants can signal the presence of hidden mold.
Addressing mold infestations early can prevent costly damage, protect your property value, and ensure a healthy environment for all occupants. Property Craft's mold inspection services provide the peace of mind from knowing your property is mold-free.
Restoring Order and Beauty to

Your Property
Mold Inspection

FAQs
Mold thrives in damp, humid, and dark environments, often growing unseen in our homes. Common causes of mold growth include water leaks, flooding, poor ventilation, and condensation. Ignoring these issues can lead to extensive property damage and adverse effects on your family's health. Property Craft provides a comprehensive mold inspection service that identifies the root cause of the problem and offers effective remediation strategies, ensuring the safety and well-being of your home.
While cleaning up minor mold infestations yourself may be tempting, it's always best to enlist professional service. Some mold types can be toxic and represent a severe risk to your health if not handled correctly. Additionally, DIY solutions may be ineffective and lead to the regrowth of mold. Property Craft's expert mold inspection service goes beyond merely removing visible mold, eliminating the root cause of the problem, and preventing recurrence.
Yes, mold can have profound health implications for you and your family. Prolonged exposure to mold spores can cause respiratory issues like asthma, allergies, sinusitis, and skin and eye irritation. Children, elderly individuals, and those with compromised immune systems are particularly vulnerable to mold-related health problems. With Property Craft's exceptional mold inspection service, you can safeguard your family's health by identifying the source of mold and removing it effectively, restoring your home's safety and comfort.
Your Key to Impeccable Restoration Services
Property Craft is an outstanding company and great to work with. We have completed numerous projects with them and they are always great to work with. Their attention to detail and consideration of customer's homes is first class. I recommend contacting Property Craft for all your construction & restoration needs.
Property Craft helped me and partners with some mold remediation/mitigation in one of our rental units. They were professional and thorough with the job they completed for us. I highly recommend them when you need a company that makes sure the job is done and done right.
We had some damage to our house due to a vehicular incident. Property Craft handled everything regarding our repairs and insurance claim. Scott and Josh did an amazing job of keeping us up to date on when contractors would be working on the house and provided us with regular updates on progress and estimates completion. By the time they had finished you would never know there was a incident and all of the crews that worked on the house were professional and pleasant.
Act Now to Remove Smoke Odors From Your Property
The lasting smell of smoke can make your property feel uncomfortable and unfamiliar. With Property Craft, you can quickly restore your home or business to its fresh, clean state. Our odor elimination treatments are thorough, fast, and effective, breathing new life into your property. Let us help you reclaim your space and make it feel like home again. Call us today!