Professional Asbestos Removal in Colorado
Comprehensive and Professional Asbestos Removal in Your Home or Business
Asbestos, a hazardous material found in older construction materials, poses significant health risks to property owners and occupants. Property Craft understands the urgency in addressing this harmful issue, and our team of experts offers the best asbestos abatement services in Pueblo, Colorado Springs, Loveland, Fort Collins, Boulder, Longmont, Denver, Greeley and the surrounding communities. We take great care to minimize the risk of exposure by using state-of-the-art equipment and following strict safety protocols. With years of experience, you can trust Property Craft's asbestos abatement contractors to safely and effectively rid your property of asbestos.
Take action now to protect yourself and your loved ones from the dangers of asbestos. Property Craft will thoroughly assess your home or business, identify asbestos-containing materials, and professionally remove them using the latest abatement techniques. You can trust us to create a safe environment for you and your family, ensuring you can breathe easier.
Schedule Your Asbestos Abatement Today!
Enlist the help of Property Craft's certified asbestos abatement contractors. Our restoration team will perform a detailed asbestos inspection, formulate a bespoke asbestos abatement plan, and execute the asbestos removal with meticulous care, all with your safety and convenience foremost in mind. Contact us today for expert asbestos testing!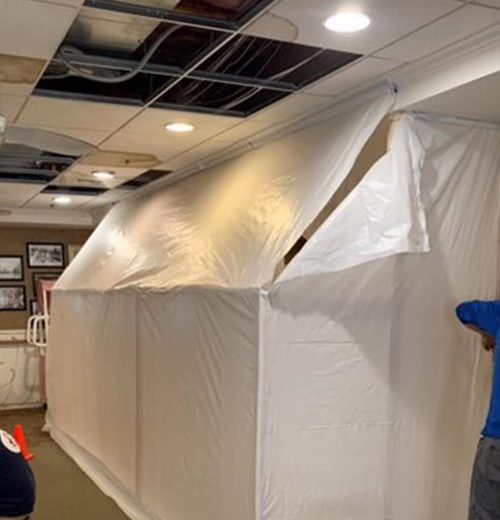 How to Know if Your Home or Business Has an Asbestos Problem
Asbestos was commonly used in construction materials such as insulation, roofing, and flooring in homes and commercial buildings before the 1980s. If your property is older than that, there's a chance it contains asbestos. Some signs of an asbestos problem include damaged insulation, crumbling ceiling tiles, and cracked or peeling tiles in your floor coverings. If you suspect the presence of asbestos, it's essential to act quickly and call in the certified asbestos abatement professionals at Property Craft.
Don't try to address the issue yourself, as improper handling of asbestos-containing materials may release harmful asbestos fibers into the air. As a Property Craft customer, you'll receive a thorough evaluation of your property to identify any asbestos-containing materials, and we will then develop a safe and effective plan for their removal. Our skilled and experienced team will ensure that asbestos-filled materials are removed from your property, allowing you to breathe easily once more.
Restoring Order and Beauty to

Your Property
Asbestos Abatement

FAQs
Asbestos is a naturally occurring mineral fiber that was widely used in various industries due to its heat resistance, tensile strength, and insulating properties. When asbestos fibers are inhaled, they can cause serious health problems, including lung cancer, asbestosis, and mesothelioma. Although its use has been significantly restricted, asbestos can still be found in many older homes and commercial buildings. To ensure the safety of your property and everyone residing there, Property Craft offers expert asbestos abatement services conducted by certified professionals, so you don't have to worry about asbestos lurking within your premises.
The symptoms of asbestos exposure can take years or even decades to show up after initial contact, making it difficult to associate the cause with the health problems. Some common symptoms include shortness of breath, persistent cough, chest pain, loss of appetite, and weight loss. More severe diseases caused by asbestos exposure include mesothelioma, asbestos-related lung cancers, and asbestosis.
Asbestos fibers are microscopic, making identifying with the naked eye difficult. Asbestos-containing materials (ACMs) can come in various forms, such as insulation, roofing, tiles, and pipe wraps. They can be crumbly, fibrous, or seemingly intact, with multiple appearances. Some common characteristics include a grayish-white, brown, or blue color and a fibrous, fluffy texture when disturbed. Due to the complexity of identifying asbestos, engaging a professional company like Property Craft is vital. Their certified team of experts can accurately detect and safely remove asbestos from your property, ensuring your family's and property's well-being.
Your Key to Impeccable Restoration Services
Property Craft is an outstanding company and great to work with. We have completed numerous projects with them and they are always great to work with. Their attention to detail and consideration of customer's homes is first class. I recommend contacting Property Craft for all your construction & restoration needs.
Property Craft helped me and partners with some mold remediation/mitigation in one of our rental units. They were professional and thorough with the job they completed for us. I highly recommend them when you need a company that makes sure the job is done and done right.
We had some damage to our house due to a vehicular incident. Property Craft handled everything regarding our repairs and insurance claim. Scott and Josh did an amazing job of keeping us up to date on when contractors would be working on the house and provided us with regular updates on progress and estimates completion. By the time they had finished you would never know there was a incident and all of the crews that worked on the house were professional and pleasant.
Get Professional Asbestos Removal Today!
Asbestos can be a silent threat to both your property and health. Our certified asbestos removal professionals specialize in safe, efficient abatement, offering peace of mind with our unparalleled asbestos abatement services. Whether it's your home or workspace, leave no room for risks regarding asbestos.