Fast and Reliable Emergency Board-Up Services in Colorado
Shield Your Home Or Business From Damage After Disaster
Property damage is a nightmare every property owner dreads. When the unexpected happens—weather disasters, fires, or vandalism—securing your property quickly is essential to prevent further damage, theft, and liability. At Property Craft, we understand the intense stress and urgency that come with these incidents. Our prompt and efficient emergency board-up services in Pueblo, Colorado Springs, Loveland, Fort Collins, Boulder, Longmont, Denver, Greeley and the surrounding areas are designed to seal off and protect your property, giving you the peace of mind you need during this difficult time.
Our experienced team at Property Craft will arrive at your site and thoroughly assess the situation to provide the most effective board-up service. We ensure all vulnerable areas are fully secured using top-quality materials and expert techniques. We'll work diligently and quickly to minimize the risk of further damage and get your property on the fast track to recovery.
Protect Your Property From Further Damage With Board Up Services
Securing your property immediately after a disaster is the first step toward full recovery. Make us your first call and experience a hassle-free board-up service. With Property Craft, you're not just securing your premises but restoring peace of mind. Let's start the recovery journey together.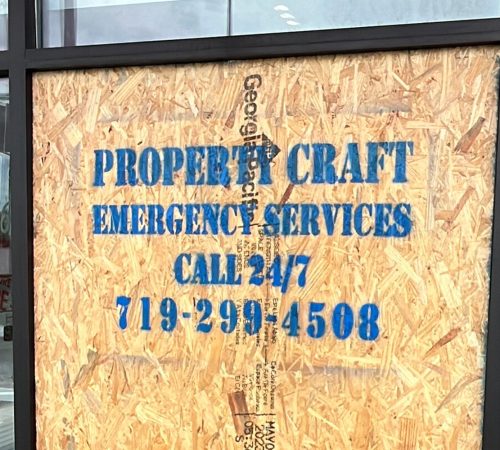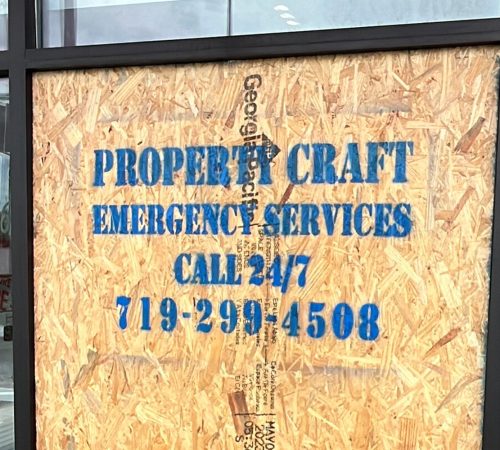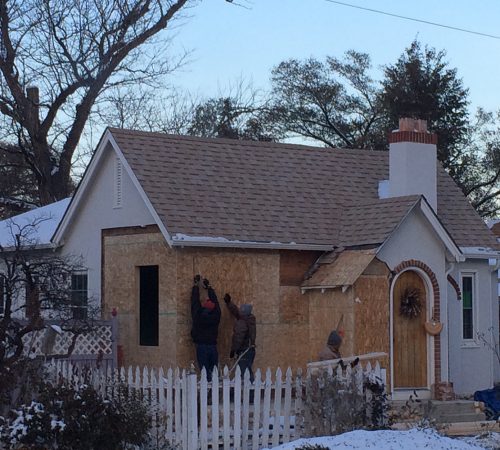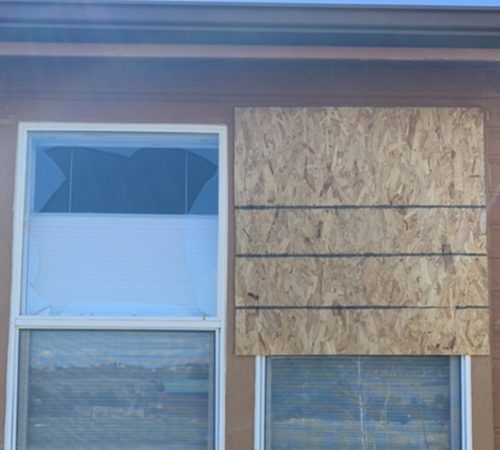 Handling a Variety of Property Damage Concerns
Our board-up process handles various damage types, from fires and storms to vehicle impacts and vandalism. We understand the importance of customizing our approach based on the situation and your property's needs. When you trust Property Craft with your emergency board-up services in Colorado you can be confident that we have the expertise and restoration equipment to secure your property effectively, regardless of the cause or extent of the damage.
We don't just put up temporary barriers; we work with you to create a comprehensive recovery plan to secure and restore your property. From boarding up windows and doors to covering roofs and sealing openings with tarps, our end-to-end solution ensures optimal protection and peace of mind.
Restoring Order and Beauty to

Your Property
Emergency Board Up

FAQs
Board-up services are essential after property damage or exposure due to hurricanes, fires, floods, vandalism, or any unexpected events that compromise your property's structural integrity. In many cases, windows, doors, and even walls could be damaged, leaving your property open to unauthorized entry, theft, or further damage. Property Craft offers professional board-up services to secure your property while you assess the situation and plan the necessary repairs.
There are several benefits to utilizing board-up services, which provide immediate and essential protection when your property is at risk. Here are some key advantages:
Prevents Further Damage: Properly executed board-up services can protect your property from weather-related damages and minimize the risk of water seepage, mold growth, or further structural damage.
Deters Theft and Vandalism: A secure property with boarded-up openings helps discourage intruders from entering or vandalizing your property.
Protects Property Value: By securing your property with board-up services, you maintain its value by preventing additional losses and damages. This is particularly helpful when it's time to resell or rent the property.
Insurance Compliance: Many insurance agencies require property owners to take the necessary steps to prevent additional property damage. Board-up services show your insurer that you've taken the necessary action, which can affect your claim.
Property Craft understands that in times of crisis, every minute counts. That's why our board-up services are available 24/7, allowing us to arrive promptly at your property to assess the situation and begin the board-up process. Our Pueblo, CO, restoration team is committed to responding quickly in high-pressure situations, ensuring that your property receives immediate protection, and minimizing the risk of further damage or loss.
Your Key to Impeccable Restoration Services
Property Craft helped me and partners with some mold remediation/mitigation in one of our rental units. They were professional and thorough with the job they completed for us. I highly recommend them when you need a company that makes sure the job is done and done right.
Property Craft is an outstanding company and great to work with. We have completed numerous projects with them and they are always great to work with. Their attention to detail and consideration of customer's homes is first class. I recommend contacting Property Craft for all your construction & restoration needs.
We had some damage to our house due to a vehicular incident. Property Craft handled everything regarding our repairs and insurance claim. Scott and Josh did an amazing job of keeping us up to date on when contractors would be working on the house and provided us with regular updates on progress and estimates completion. By the time they had finished you would never know there was a incident and all of the crews that worked on the house were professional and pleasant.
Contact Us For Emergency Board Up Services Today
Further damage to your property can be avoided—but only with swift action. Reach out to Property Craft for professional emergency board-up services. With around-the-clock assistance, we will stabilize and secure your property right away. Call us anytime!