Reliable Storm Damage Restoration in Colorado
24/7 Storm Damage Repairs
There's nothing as unsettling as waking up to a disaster-hit property after a severe storm. Whether it's destructive winds, heavy rainfall, or a violent hailstorm, the after-effects can extensively damage your house or office, leaving you with a troubling recovery scenario.
At Property Craft, we understand that nature strikes without warning. Thankfully, we're available 24/7 to restore your property to its former glory after a storm has struck. Our certified restoration contractors pair state-of-the-art water mitigation equipment with extensive storm damage cleanup experience, to transform your storm-battered site into a comfortable and inviting space.
Repair Your Storm-Damaged Property Today!
From torrential downpours, strong winds, and terrifying hailstorms to destructive tornadoes, storms can devastate your residential or commercial property. Property Craft understands the unique challenges unprecedented weather can bring and are experts in restoring properties impacted by water, wind, and hail damage. Our team's diverse skill set and experience mean we can handle even the toughest restoration challenges, no matter the scale.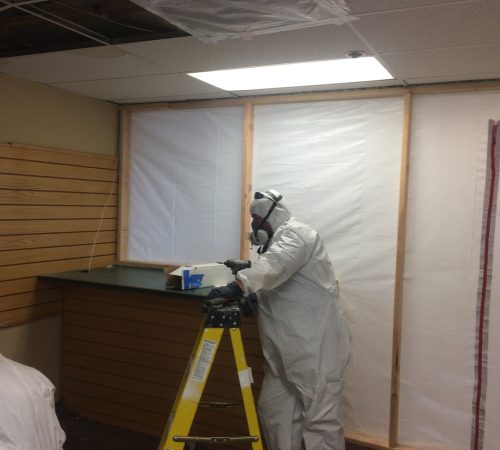 Comprehensive Solutions for All Types of Storm Damage
Whether you're dealing with structural damage from high winds, water damage from flooding, or impact damage from hail, we're equipped to handle all types of storm damage. At Property Craft, we understand every kind of storm brings unique challenges—varying degrees of destruction require different restoration strategies.
With our adept and experienced team, we don't just repair; we restore. From complete structural repair to drying out waterlogged properties, our comprehensive restoration solutions leave no stone unturned. We're committed to providing extensive restoration, ensuring your home or office is returned to its pre-storm state or better.
Restoring Order and Beauty to

Your Property
Storm Damage Restoration

FAQs
At Property Craft, we employ a comprehensive storm damage cleanup process to ensure your property is fully restored to its pre-damage condition. First, we conduct an in-depth property assessment to identify all areas of concern. Afterward, our professional team utilizes advanced cleaning and restoration techniques to address problems like water damage, structural instability, and mold growth. We also manage debris removal and necessary repairs. Our commitment is to ensure your property receives the utmost care and attention, helping you recover quickly and stress-free.
Flood damage repairs can vary significantly in time, depending on the severity of the damage incurred. An average job might take anywhere from a few days to several weeks. We understand how distressing it can be to have your home or property uninhabitable, and we prioritize returning your property to normal as quickly as possible without compromising on quality.
After a storm, there are a few key areas that homeowners should inspect for signs of damage. Look for apparent structural damage like missing or damaged siding, roof issues including missing shingles or leaks, and broken windows or doors. Internally, water damage may manifest as discoloration on your walls or ceilings or. Remember to check your property for fallen trees or other significant debris. If you're facing any of these problems after a violent storm, contact Property Craft. We are proficient in identifying and remedying storm damage, providing professional guidance and comprehensive repair services.
Your Key to Impeccable Restoration Services
We had some damage to our house due to a vehicular incident. Property Craft handled everything regarding our repairs and insurance claim. Scott and Josh did an amazing job of keeping us up to date on when contractors would be working on the house and provided us with regular updates on progress and estimates completion. By the time they had finished you would never know there was a incident and all of the crews that worked on the house were professional and pleasant.
Property Craft is an outstanding company and great to work with. We have completed numerous projects with them and they are always great to work with. Their attention to detail and consideration of customer's homes is first class. I recommend contacting Property Craft for all your construction & restoration needs.
Property Craft helped me and partners with some mold remediation/mitigation in one of our rental units. They were professional and thorough with the job they completed for us. I highly recommend them when you need a company that makes sure the job is done and done right.
Fight Back with Expert Storm Damage Repair Services
When storm damage hits, it's natural to feel a sense of loss. Property Craft is here to help you navigate this challenging time and restore your property to its original state or even better. Our wealth of experience and our unrivaled commitment to quality service ensure you can restore with confidence. Contact us today, and let us transform the chaos of damage into the comfort of restoration.